Passing legislation in the 116th Congress to rebuild the nation's infrastructure is "not an option, it's a necessity," President Trump said Feb. 5 in his State of the Union address before Congress.
"Both parties should be able to unite for a great rebuilding of America's crumbling infrastructure," he said to applause.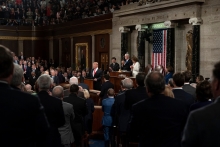 President Trump arrives for the State of the Union Dec. 5. Photo courtesy of the White House.
NACo responds to president's State of the Union address